Friendcaster for Facebook App is one of the best third party developed  facebook application for Android Tablets and Android Phones.  It has been downloaded more than 3 Million times by the users so that you can guess how popular this faccebook app.
Many will feel that the Official Facebook App is lagging very seriously and the Friendcaster is one of the possible replacements for this problem.Friendcaster would do what facebook users are expecting from its official app . This has all the features that you can expect from an app.
The striking features of this app can be considered as
Quick and Smooth
Instant Real Time Notifications
Ability to Tag more than one in a single post
Easy to use interface with quick access to facebook features
Memory Improvements
High Definition Images in news feed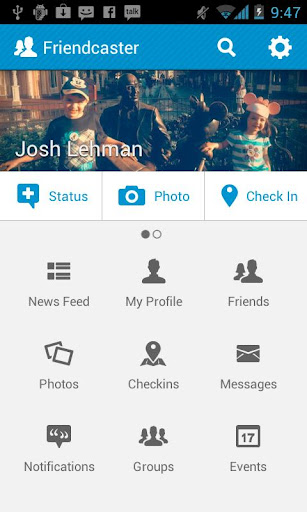 And is still improving day by day adding new features to its list.  The recent changes include the ICS menu fixes and looks more attractive. As of now its version is 5.0.9.6 which is 4 MB in size.  This app is available in two different versions Free and Pro. The Free version is supported by ads and you can buy Pro Version for 4.99$.
Google Play Ratings for Free version of this App is

Hope you enjoyed reading this article and express your views on it in the comments section.